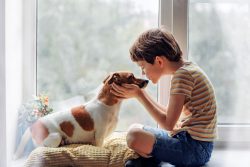 At Animal Family Pet Preservation, we understand that your pets are more than just animals. They're family members and friends, which is why we offer Advanced Pet Preservation in Portland, OR. We believe every pet deserves to be remembered as they were when they were alive, full of life and love. Our goal is to help you achieve that by preserving your pet's memory forever.
We use state-of-the-art technology to create a lifelike replica of your pet's remains. This replica can then be displayed in your home or taken on special trips so that you can take your pet with you wherever you go!
If you've ever had to make the difficult decision to put down a beloved pet, we want you to know that there is hope for the future.
Animal & Pet Taxidermy Services
At Animal Family Pet Preservation, we're here to help you preserve the memory of your beloved pet. We offer a range of taxidermy services for animals of all shapes, sizes, and species.
Whether you need a custom piece made to fit perfectly in your home or business or want to preserve a special moment with a snapshot of your pet, we have the skills and experience to help you create something truly unique that will last forever.
Additionally, we offer the best customer service possible, with friendly staff members who will be happy to answer any inquiries or concerns you have about our services or what kind of preservation would be best suited for your pet. We specialize in helping people through these difficult times by offering them a way to always keep their loved ones close at hand!
Pet Preservation
Pet preservation is the process of preserving a deceased pet and its fur through taxidermy. This allows you to keep your pet forever, which can be comforting in the event of losing your pet.
Furthermore, pet preservation is an alternative to cremation or burial, which can be costly and time-consuming. You can choose from various options to create a beautiful display piece that will last for years.
We specialize in providing our clients with a variety of options when it comes to preserving their pets. We offer full-body and partial-body preservation to accommodate all budgets and needs.
Dog Taxidermy
Dog taxidermy is preserving your dog's memory by creating a lifelike, realistic sculpture from your pet's fur and skin. You can choose from various options, including custom sizes and poses, or purchase an already-finished product for your home.
Dog taxidermy requires skill and experience, and we have both! Our staff has been trained specifically in this craft, so they know how to properly preserve your pet's fur and skin so that it lasts for generations. Since we know what sets apart the various breeds, we can make sculptures that are remarkably lifelike representations of the real thing.
Cat Taxidermy
Cat taxidermy is the process of preserving an animal's natural beauty using artistry and techniques. It can be done in various ways, but our proprietary process retains your cat's look and feel with the least invasive procedures possible. This allows for a lifelike representation of your beloved pet that you can display in your home or office, keeping them close at all times.
We are a professional cat taxidermy service dedicated to preserving the memory of your beloved feline friend. When you lose a family member, it's important to be able to keep them with you forever. Our services provide you with an opportunity to do just that.
Small Animal Taxidermy
Small animal taxidermy is a delicate process that requires the utmost care and attention. It is important to understand that the body of a small animal must be preserved and stabilized before it can be posted. Hence, we take great care in ensuring that the animal's body is in good condition before we prepare it for display.
Our goal at Animal Family Pet Preservation is to save your beloved pet for eternity, and we are committed to doing so with the utmost care. Though it's never easy, your pet deserves to be remembered with love and affection long after it's gone.
What is pet taxidermy?
Pet taxidermy is the art and craft of preserving the physical remains of a beloved pet in such a way that it looks lifelike and natural.
The process involves preparing the skin, bones, and other tissues, then putting them on display in a lifelike pose. Depending on what the owner wants, the finished product can look like the animal is still alive or asleep.
Can you touch taxidermy animals?
Taxidermy animals are the preserved remains of dead animals and instructions for their care will be given when the pet is complete. But YES! you can touch your pet, pet them, comb them, carry them.
The handling and care of taxidermy animals is an extremely delicate process. The best way to preserve your taxidermy animal is to treat it gently, with care and respect.
Can you taxidermy a house pet?
You can taxidermy a house pet. The process is the same as for a deer or other wild animal, but it may be a little more difficult because of the size of the animal and its anatomy. It is best to have a professional do this for you.
Need Advanced Pet Preservation in Portland, OR?
If so, look no further! Animal Family Pet Preservation is here to help you. Contact us now!
We offer the most advanced pet preservation services in the area. Our team of experts will ensure that your pet gets the best treatment possible and that your family feels safe knowing their loved one is being taken care of. With our extensive background in assisting pet owners, we're positive that we can find a workable solution for you.