Animal Family understands anyone who considers a pet a beloved friend, companion, or family member knows the pain of separation that accompanies the loss of that friend.
Why do I hurt so much?
Grief over the loss of a pet is normal and natural.
What can I expect to feel?
Different people experience grief in different ways. A recent study showed that 80% of people surveyed consider pets as members of their family. So it is normal that you will experience that same sense of loss.
What can I do about my feelings?
Be honest about your feelings. Don't deny your pain or your emotions.
Who can I talk to?
If your family or friends love pets, they'll understand what you're going through. We often get calls from those who have recently lost a pet, and we'll gladly do what we can to help with the healing process. Our owner has been trained for and is experienced in grief counseling. Grief is real regardless of who you have lost.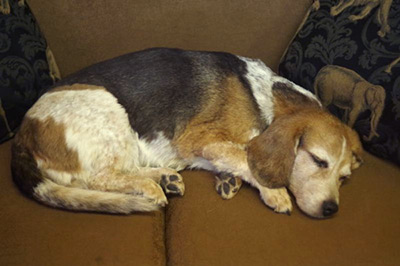 My family and friends think I am "crazy" for wanting to do this. What do I tell them?
Our advice is to follow your heart and to do what you feel will give you closure and peace in the loss of your pet. However, if you are concerned that your family and friends will be "put off" by your pet, may we suggest a sleeping pose as this seems to be less alarming to those who may not understand why you would choose Pet Preservation over burial or cremation, the latter being an unbearable thought for most of our customers.
For example, we have a Beagle preserved in our showroom area, visitors who see him think he is just that, a sleeping Beagle. Lots of people talk to him and have even come to our studio several times before they realize he is not sleeping.
Coping with the loss of a pet is a hard one. Guy Winch discusses why we should be taking it seriously, and how we can handle it.