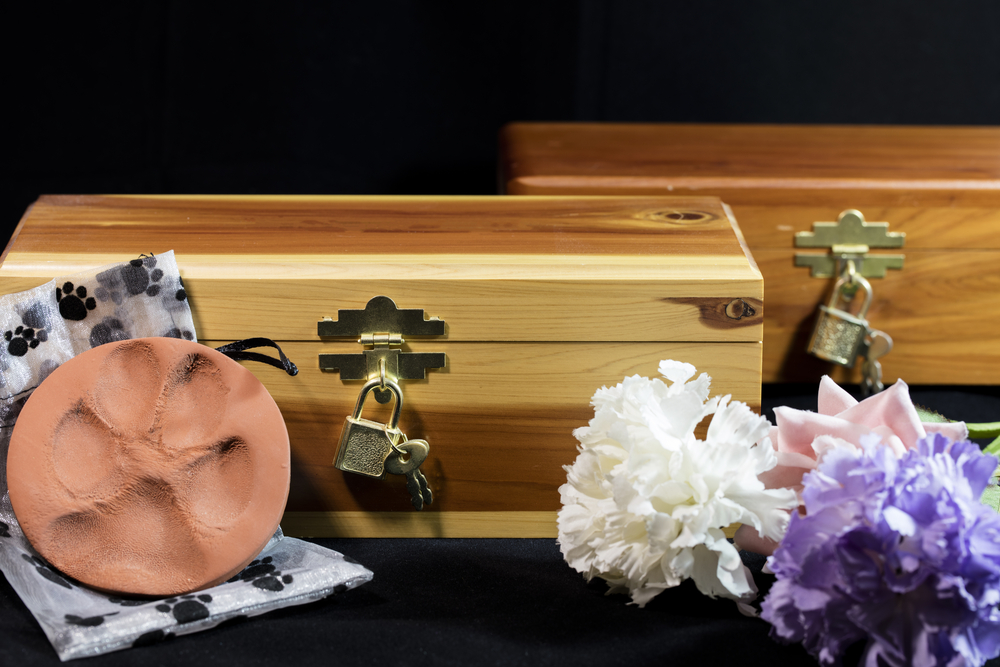 June 5, 2023 8:10 pm
Leave your thoughts
If you have a terminally ill pet, or your pet has already passed away, you're undoubtedly experiencing great sadness. If you're trying to decide what to do with your pet's remains, you should know that pet cremation is a popular way to memorialize a pet after its death. If pet cremation is something you're strongly considering, then one thing that can help you make a definitive decision is to think about what you would do with the ashes afterward. Here are eight ideas for what to do with your pet's ashes. 
Create a Special Pottery Piece
This option is unique and an extra special way to pay tribute to your deceased pet. You can make the pottery at home or in a pottery studio. Regardless of where you make it or what object you choose to create, you can add a bit of your deceased pet's ashes to the pottery and mix it in. That way, when you look at the pottery piece, you will always think of your beloved pet that passed away. Better yet, if you're feeling especially creative and have the talent to do so, you could create a mini replica of your pet using the pottery, bringing even greater comfort. 
Grow a "Fido" or "Kitty" Tree
Whether your deceased or terminally ill pet is a cat, dog, or a different animal, you can use its remains to grow a tree. How? First of all, you would need to purchase a biodegradable urn. That way, once you cover it with soil, it will become part of the earth. Once you've placed your beloved pet's ashes inside the urn, add seeds, and plant the urn in a desirable place to grow. Your pet's remains will act as fertilizer for the soil and grow a beautiful, lush tree that will be in your pet's memory.  
Store the Ashes in a Customized Urn
Some pet owners who have lost a pet find comfort in having their pet's ashes in a customized urn. The urn could have your pet's name engraved on it or customize it in some other way. When you look at the urn on a dresser, shelf, or fireplace in your home, you will likely think of your pet and smile. This can be very therapeutic and help you work through your grief faster. 
Add the Ashes to a Homemade Christmas Ornament
No time of year is more magical than Christmas, and you might feel especially sad because your pet is no longer around. However, creating a special ornament with all or some of your pet's ashes inside can bring you joy. It doesn't matter the material you use or the type of ornament you decide to make. As long as your pet's ashes are placed securely inside the ornament, having it displayed on your Christmas tree each year can help you remember your deceased pet, year after year. 
Have Some Customized Jewelry Made
Having jewelry made, either a necklace, bracelet, or earrings, is another unique way to use your pet's ashes to bring you comfort. How it works is you'll have at least one piece of jewelry made that has a portion of it hollowed out. You will have your pet's ashes (probably a small amount) placed in this hollow area. This will allow you to carry a part of your pet with you every time you wear that particular piece of jewelry. You could even have a locket on a necklace, as well, that has a picture of either just your pet or one of you and your pet. This could also accelerate the healing process after your loss. 
Scatter Your Pet's Ashes in a Body of Water or Other Special Place
If you and your pet used to spend time near a body of water, such as a river, lake, or stream, then you could scatter the ashes of this pet in or near that body of water. Even if your special place was not a body of water, it might still be possible to spread or even bury your pet's ashes there. If it's a public place, be sure to ask for permission first, as you don't want to do something that is considered illegal. 
Create a Paper Weight to Display in Your Home or Office
If you spend a great deal of time in an office, whether in your home or a separate office, you could benefit from a paperweight. Even if you must pay a professional to make it, a glass paperweight that contains all or some of your pet's ashes could be a great alternative to the other ideas on this list. If you don't use paperweights, they could still be made and displayed on a shelf, fireplace, or dresser.
Send Your Pet's Remains to Space
Whether you're a Star Trek fan, a fan of sci-fi movies, or just a lover of space in general, you can opt to have your pet's ashes sent into space. This is a cool idea for many space fans who are pet owners. You will need to contact one of the few companies that do this sort of thing, and they can give you all the details of what to expect, including cost. You could even record the process, which could be unique and memorable. 
Honoring your pet after its death is a wonderful way to remember the times you spent together and bring you comfort. If you're searching for an experienced agency to conduct the cremation, then contact Animal Family Pet. Animal Family Pet has over three decades of experience providing top-quality services to its many clients. Their empathetic and professional staff can help you through this tough and painful time and help to accelerate the healing process.
Categorised in: Pet Cremation
This post was written by mmaier